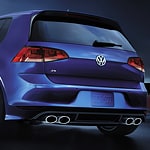 Even though humanity is making extraordinary industrial leaps as a whole, we have a very long road to travel before driving becomes a 100% hazard-free experience for everyone. Until that day arrives, it is wise to invest in state-of-the-art automotive safety features. Per Valley Volkswagen's recommendation, you simply cannot be steered wrong by the sensationally protective Volkswagen Golf R.
An intelligently oriented responsive driving philosophy is confidently highlighted by the inclusion of Automatic Crash Notifications. The capacity to immediately connect with local operators is a potentially life-saving addition. This utility benefits from in-depth mobile integration via Android Auto, Apple CarPlay, and MirrorLink.
Meanwhile, the capacity for remote supervision by proxy reaches new heights thanks to the stalwart Family Guardian service. This surreptitious observation apparatus delivers instantaneous alerts regarding a variety of imperative matters including violations of regional speed limits, upcoming curfew times, and valet mileage reports.